Two-cycle oils
Get going, be on the road - experience the feeling of freedom or simply pursue that thrill of an adrenaline kick. Whether it's motorcycle, moped, scooter, trike, quad or cart. No matter if you are on the road, off-road or on the race track. Reliability will always remain one of the key elements and one of the greatest challenges.
Die SAE-Klassifikation erklärt

Grob teilt die SAE-Klassifikation die verschiedenen Motoröle in Klassen unterschiedlichen Fließverhaltens ein.

Die Zahl vor dem W (5W-30) gibt die Tiefsttemperatur an, bei der das Öl noch pumpbar ist. Die Zahl nach dem W (5W-30) gibt das Fließverhalten bei 100°C an.
30
1158#1771#1891#1892#1893#1896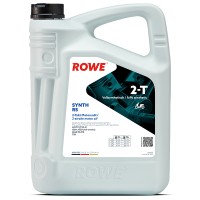 Fully synthetic, high-performance, 2-stroke premium engine oil for air-cooled and water-cooled 2-stroke engines. Low smoke. This product guarantees absolute lubrication safety even under extreme conditions. Best suitable for both premix- and oil-injection lubrication.