HIGHTEC TOPGEAR SAE 75W-90 S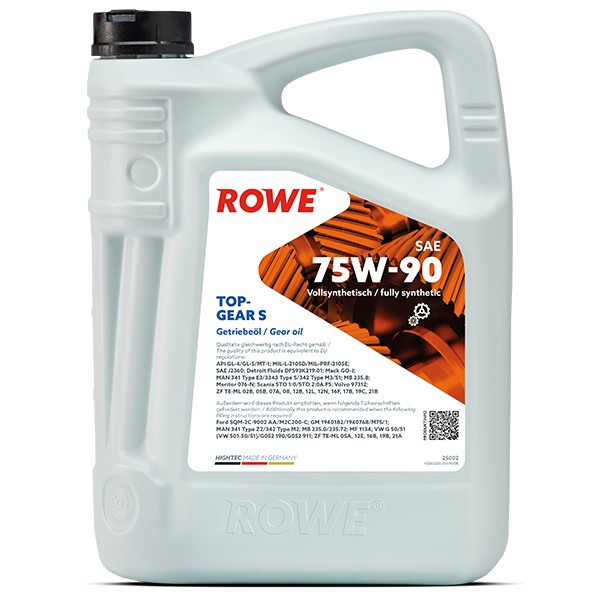 Available from your local ROWE partner.
Other pack sizes
Product description
Fully synthetic, high-performance, multi-grade gear oil for manual gears and axle gears. Optimum wear protection. Guarantees easy gear changing at low temperatures. Saves fuel.
Product specification
Safety data sheet
Viscosity:
Base oil:
The quality of this product is equivalent to EU regulations:
SAE J2360
-
API GL-4/GL-5/MT-1
-
Mack GO-J
-
MIL-L-2105D/MIL-PRF-2105E
-
Detroit Fluids DFS93K219.01
-
MAN 341 Type E3/3343 Type S/342 Type M3/S1
-
MB 235.8
-
Meritor 076-N
-
Scania STO 1:0/STO 2:0A FS
-
Volvo 97312
-
ZF TE-ML 02B, 05B, 07A, 08, 12B, 12L, 12N, 16F, 17B, 19C, 21B
Recommendations:
---
*Abbildungen/Etiketten können abweichen. Namentliche Freigabe liegt vor. Für 4 Liter-Gebinde gelten Mindestabnahmemengen. Details erfahren Sie von Ihrem zuständigen Vertriebsmitarbeiter.